Why people are still doing fireworks today, is really beyond me. 😡
2007. We were home and watched the Pummerin ring in the New Year, as we always do, when just at exactly midnight, a death notice flashes over the screen, and then over and over again. I couldnt believe it. Our national tv station is just the most idiotic group of people ever. How can you ruin everyones New Year with a death note, at exactly midnight? Couldnt they have waited just 5 more minutes? I was pissed, what a bad way to start a New Year.
My brother failed to inform me, that my face has gotten really bloated from all the steroids that I have been taking. I could live with it somehow, if I didnt have to work today, and for the rest of the week. He suggested that I hide behind my hair, so that other people cant see it. Do I have to say how devastated I was all night? I even short messaged my groupleader at 11.00 pm, to say that I am not coming, but as he was asleep he couldnt reply, and I had to go to work. These are the moments where my Mom is missing so much, because she would have told me much sooner, and I could have stopped taking them. These are the valleys we have to walk through, one of the deeper ones that was.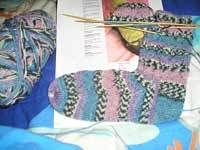 Such a bummer that my sock knitting mojo has to be stopped for now, due to work, I was progressing so nicely! And I got the wool for the next two pairs today, look! But they sent me the wrong wool, again! I got the Rainforest Frog Wool for friend #1, and the brown wool for friend #2, but the Tiger wool which I ordered because I thought I was running out of wool on my brothers socks, was not sent, instead they sent me Owl wool (which I already have). This has happened before. Argh, so annoying.
I am not sure anyone has noticed, but I spent all Saturday working on the Portal. I upgraded, and fixed, and changed, added and edited, lots of stuff really! But there is so much still to do, and everything is under heavy reconstruction. I read 18 books in 2006 btw! And only 3 were in english, thats a negative record. I dont think I ever read that little in english before. This needs to be changed. The next book will be an english one. Is "To Kill A Mockingbird" any good? 🙂