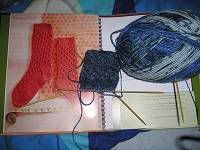 I finally started a new pair of socks. I am going to to knit "Childrens First Socks" (a shell pattern) from Knitting Vintage Socks. I was really itching to knit the Pomatomus Socks, but Opal is definitly to thick for it, bummer.
Did anyone happen to see this weeks Larry King Weekend Edition? He went into some Fisher Houses to visit wounded troops. While I think Fisher Houses are probably as brilliant as Ronald Mac Donald Houses, it was tragic to see so many young people so terribly wounded. Like, with no legs, no arms, paralyzed from the neck down, and one really cant help but think: was this necessary? But then, how do you really stop terror besides sending people down there to hunt after "them"?
After a bad night, and another trip to the ER, my Dad is back in the hospital. On a much better note: the bunnies are doing very well.