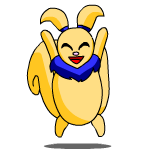 HOORAY! This is the final post of this years NaBloPoMo, I cant believe it! 😀 The jumping Usul is supposed to show my joy that its over. 😛
I started out really good, but as the month progressed, it just got more impossible to post on a daily basis. On some days, I was just dead when I get home and on others, I was an emotional wreck. November is not a good month. Did I even tell that one time I started to cry my eyes out at work because it was my Moms birthday? My parents are hunting me badly these last few weeks. Where is my piece of soul? This is so hard, and even though I might not be as lost as I was in the beginning, I still feel incredible lost.
I cant remember if I told about that weird literature inbetween test that I had last Wednesday, for which I hardly studied but still went to? I am so brave! Of course I probably failed, but at least I was there.
In any case, you might have possibly noticed, I cheated a little. The cheating got worse as the month progressed. There is an entry for every day of November, but those entries werent always written on that specific day. I think I shall be forgiven!
Now where is my badge that I did it? 😎