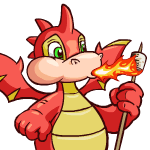 The decision to post today was made after I saw this on the Neopets site, I love Scorchios. 🙂 And yes, I am STILL playing Neopets. Sigh.
I am in the midst of preparing for tomorrows lectures, I find studying so terribly depressing and frustrating, even though I know why I do it for, its so hard to get motivated and started. I refuse to give up of course and I will follow my goal until I am done or drop dead. I would prefer the first scenario. 😎
No time to read these days, but I do manage to get some knitting done. I am almost done with the Diminishing Rib Cardigan from the new Interweave Knits. No photos yet though. I have stopped knitting the largest sizes *yay me* and am going for the smaller sizes. I do learn after having knit way too many way too big clothes.
There is lots else, but I am way too tired to remember or have I blocked it all out, probably. I need my brain cells for Uni. And the thought alone of having to get up at 3.30 am tomorrow makes me even more tired.
I really do need a REAL break soon. Nothing is getting better, even the pneumonia is still around. Oh well, back to my poems from the expressionism! So exciting… *NOT*