I seem to be down in the rut lately. I cant decide what to knit, what to read, what to watch. Sometimes, I sit in my bed for hours, unable to decide anything. At some point, I turn off the light, and go to sleep. I do nothing but sleep since I got home from work Friday. No wait, I went to the movies yesterday, Stranger Than Fiction, brilliant movie, worth watching, even though no one else was in the theatre but us… Even there, I couldnt wait to go back to sleep. I wake up in the middle of the night, memories popping out of their trance like state, and I cry buckets full of tears, until I fall asleep again, hours later. Real life is very painful. I feel like getting horribly drunk, that would be a nice change of addiction.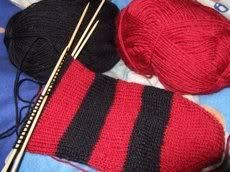 I frogged my supposed to be lace heart socks, and started striped ones instead. I am calling them Striped Emily Socks, toe up, I am about to turn heel! I think I will order wool so I can finish my Sesame jacket that I started last summer. I just cant be bothered, really… I dont even know why I keep on knitting, I never wear the things I make, nor does my brother.
I started to read The Glass Castle today, a brilliant book, I cant put it down! The insanest memoir there is. At most points, I dont know if I am supposed to laugh or weep, I highly recommend it, it is really good.
Despite saying no a billion times last week, I even wrote it on someones desk, I had expected my phone to ring already yesterday. It rang today. The post office just keeps adding to my already confused state. No only has a duration of 36 hours, who knew it could expire, you always learn something new each day.